Custom Nissan Commercial Upfitting & Ordering
Every business must stand out in a crowd to become successful. With a custom Nissan NV or truck, you'll surely make your presence known and gain some name recognition around town.
As your local Nissan Commercial dealer, it'd please us to no end to position your company for the future. Take a look at our Nissan Commercial Incentive Program and upfitting options to give your company vehicle that personalized, bespoke touch. Once you see the benefits of a Nissan upfit, you won't want to run a business any other way.
Free Upfitting Through the Nissan Commercial Incentive Program
Your decision to welcome a commercial Nissan vehicle into your fleet was wise, especially when considering the complimentary upfit services provided by the Business Certified team at Nissan of Alhambra! Depending on the Nissan model you pick, it may come with one of the following incentives:
Up to $1,000 Upfit Cash Allowance

- Perfect for when you want each of your Nissan fleet vans to look different, this cash allowance allows you to add on the most important gear for your business. (Cash allowance amounts vary by model, so check with the team at Nissan of Alhambra for complete details.)

Nissan Business Certified Wraps

- Modify your Nissan van by stamping your brand to its exterior. Level 1 Wraps are included at no charge; there are exclusive rates on Level 2, 3, and 4 graphics.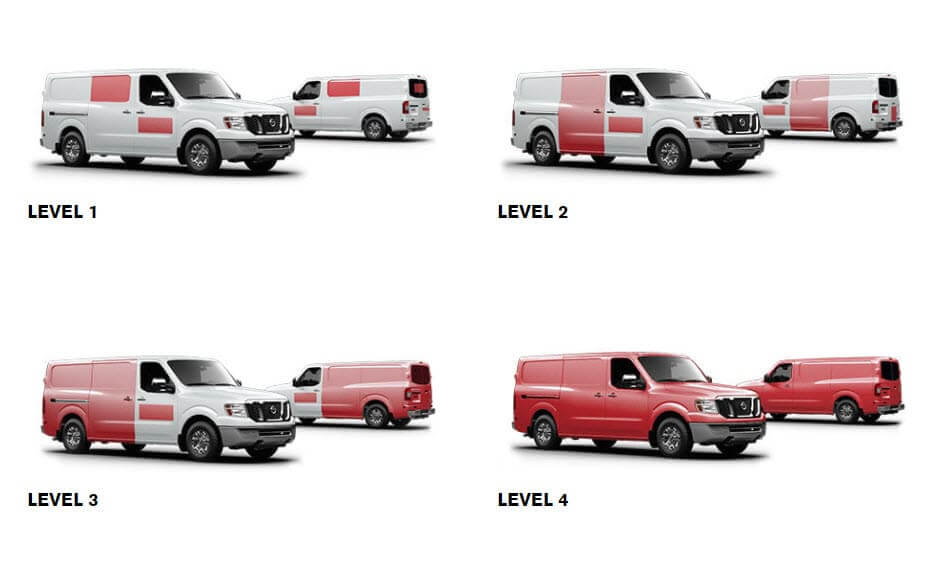 Nissan Cargo Management Solutions

- When you choose a Nissan NV Cargo or similar van, you can combine it with a customized cargo management system and

upfitting

package that best suits your business needs (see section below).
Of course, you aren't limited by restrictions when working with the business team at Nissan of Alhambra. The account managers at our dealership will gladly go over all your options. We can install add-ons, accessories, and special Nissan wraps to any vehicle, big or small.
Nissan NV Cargo Custom Upfit Packages Available
Stay on top of your workload with the right Nissan van gear! Designed to maximize efficiency, these upfit packages and solutions will guarantee you're prepared for any job.
For Nissan NV Cargo vans, the following packages are available:
Cargo Management System (CMS)

- The CMS includes three "AD Series" shelves, a cargo partition wall, Four Hook Bar, and Rail Kit.

Utility Package

- A bolt-on partition and 3 Bar Utility Rack are included in NV Cargo models with standard roofs. NV Cargo vans with high roofs substitute the utility rack for a Ladder Keeper.

EZ Load Ladder Rack

- NV Cargo models with standard roofs can be equipped with an all-new NV ladder rack.

General Service Package

- Service contractors pay a nominal upcharge fee for a bountiful harvest of NV Cargo equipment, including a Parts Bin System, divider, specialty shelves, and other Nissan NV modifications.

Electrical Contractor Package

- Electricians can also benefit from Nissan NV custom package. This upfit includes add-ons like a literature rack, large parts bin, and a wire holder.

Security Package

- Additional dividers and a hefty five-inch hook are included with this Nissan NV package.

Cable Package

- Utility workers can stay organized with these packaged modifications, which include extra Nissan NV shelving and drawers.

HVAC Package

- Any HVAC repair van worth its weight in Freon should have the useful 3 Tank Rack that comes with this Nissan package.

Locksmith Package

- This package includes an NV mobile office and locksmith workstation in addition to a large drawer and cabinet module.
Similarly, Nissan NV200 Compact Cargo vans can be ordered with the following upfit gear:
"AD Series" Shelf (28" to 32")

Rail Kit (Streetside or Curbside)

Partition (Steel or Wire)

HD Shelf (12"x28" to 12"x32")

NV200 Utility Rack

Hook Bars

NV Ladder Rack (Grip-Lock)
Nissan Work Truck Upfitting
If you opt for a Nissan commercial truck, you'll certainly want to consider grabbing a Nissan Frontier toolbox, TITAN ladder rack, or any of these other Nissan truck modifications:
Caps

Toppers

Ladder Hooks

Bed & Side Lighting

GPS/Telematics

Cargo Boxes

Rearview Cameras

Step Rails

Fog Light Kit

Bumper Step Assist

Sliding Bed Dividers

Bed Extenders

Tailgate Guards

TITAN® Box Storage Solution

Bed Liners

Hitches

Remote Start

Seat Guards

Under-Seat Storage Bins

Wi-Fi
To ensure the highest quality, all Nissan Commercial upfit materials are built, tested, and installed by the Business Certified team at Nissan of Alhambra or a verified upfit supplier. No ifs, ands, or buts.
Customize Your Nissan Commercial Vehicle Today
To learn more about building your ideal Nissan fleet, contact the account managers here at Nissan of Alhambra. With numerous upfit packages to choose from, you'll have no trouble designing the right vehicle.